Thousands of President Trump's supporters stormed the US Capitol to bring a violent halt to the formal confirmation of the November Election Results in which President-elect Joe Biden defeated Donald Trump. However, the president has repeatedly and falsely claimed he would have won the election if not for widespread voter fraud. The violence erupted on Wednesday after Trump urged his supporters to "take back the country".
Also Read|Pro-Trump Supporters Storm Capitol Building In US; Joint Session Over Presidential Election Result Stalled
These are the key points of the US Capitol Hill Seige:
A lady was shot dead Wednesday inside the US Capitol amid chaotic scenes in Washington as supporters of President Donald Trump entered the building in anger over his election defeat. An explosive device was said to have been found.
Trump supporters overturned barricades and clashed with police on the US Capitol grounds and streamed inside the building. The demonstrations flared as lawmakers met inside to formally certify Biden's victory over Trump in the November 3 election.
Violent protesters were seen smashing windows and occupying the House and Senate floors and various offices. Police were seen with guns drawn in the House chamber, pointing their firearms at windows that were smashed.
People inside the building were told to shelter in place, and congressional leaders were taken off-site. Members of Congress were told that tear gas was being used in the Capitol Rotunda and that they should get ready to put on masks.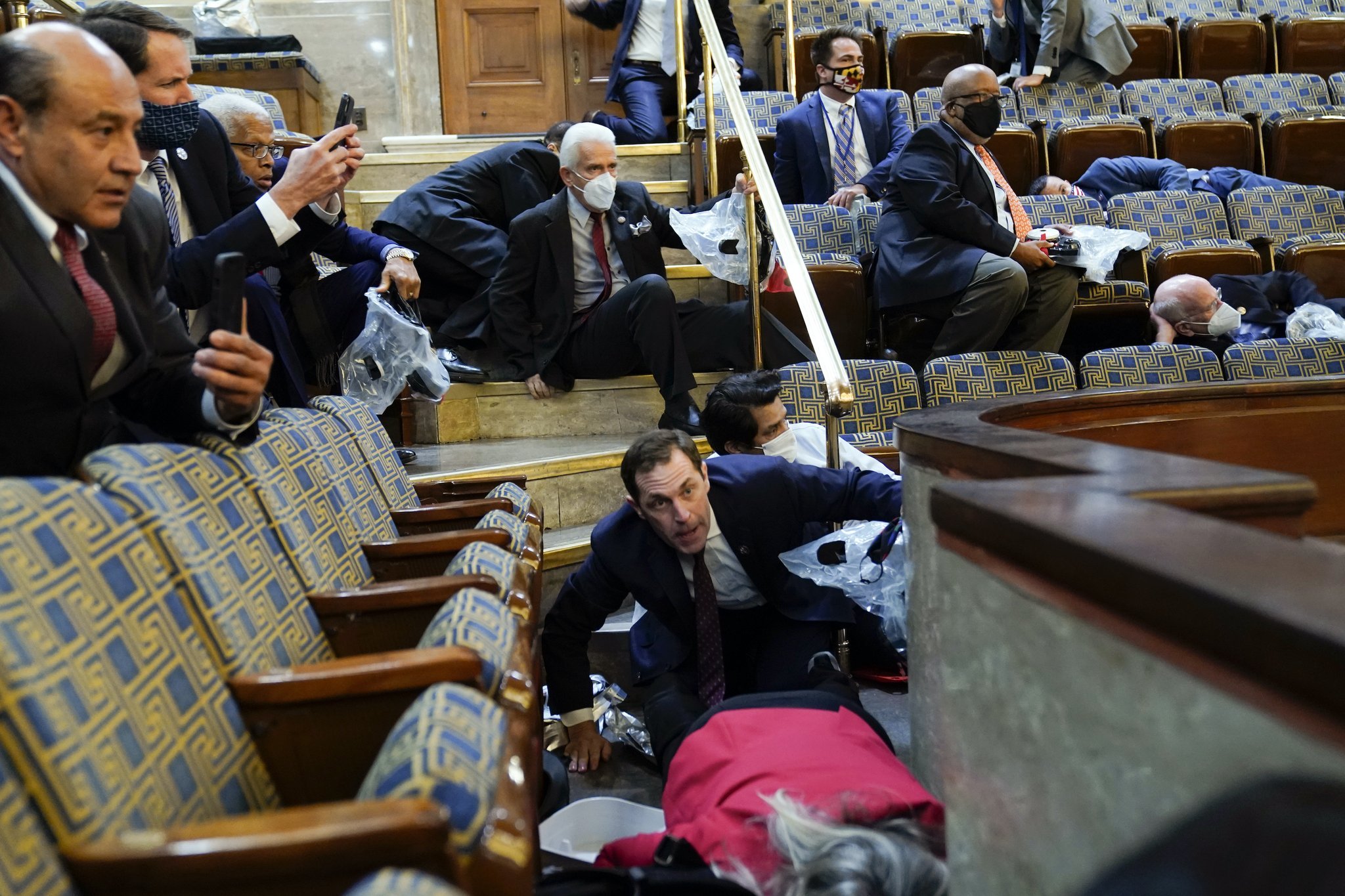 Lawmakers were debating an objection to Arizona's results — a state Trump lost narrowly — when the sessions were recessed as the Capitol Police attempted to put the complex on lockdown.
On Twitter, Trump asked people to remain peaceful. He then posted a video on social media, asking people to go home — but not before reiterating his baseless claims about the election being stolen and saying: "You're very special."
Twitter on Wednesday took the extraordinary step of locking President Trump's account, depriving the president of his favorite means of communication after violent Trump supporters stormed the Capitol.
Facebook later said it had "assessed two policy violations" against Mr. Trump's page, and said it was blocking him from posting on the platform for 24 hours.
Vice President Pence more forcefully condemned the chaos, saying that the violence was an "attack on our Capitol" and tweeting that people involved must "immediately leave the building" and would be "prosecuted to the fullest extent of the law."
President-elect Joe Biden on Wednesday denounced the storming of the US Capitol as an "insurrection" and demanded President Donald Trump go on television to call an end to the violent "siege."
Law enforcement eventually gained control of the scene, ushering people out of the Capitol. The House sergeant at arms informed lawmakers and staff after few hours that the Capitol had been cleared. Washington, D.C has instituted a 12-hour curfew.